Update Configuration File - Lockout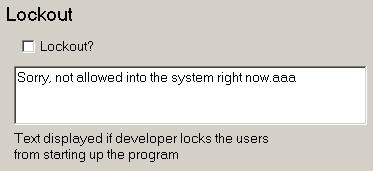 This screen is obsolete and no longer exists as of version 3.20 as the toolbar icon on the main screen and related screens replace this screen.
Check this option to display the lockout message for the users. The Auto FE Updater will not copy any files and won't run the application . This allows you to do things such as make changes to the backend database file or run a compact and repair.
You will need to ensure users exit the Access application if they are already in it.
The text to be displayed can be left in the configuration file. It will only be displayed when the Lockout checkbox is checked.