Forms - Online Help - Select Configuration File
All the forms will be placed here in the next few releases.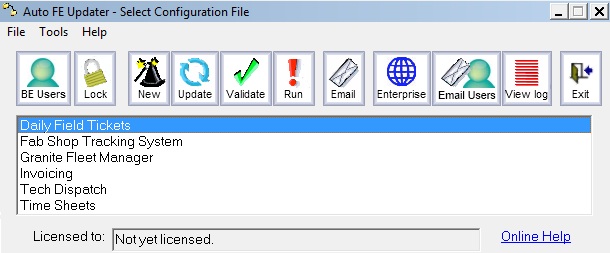 BE Users shows how many users are currently in the backend databases. If you have the Enterprise Edition license the work station name and, if possible, the userid and names of the users currently accessing the back end database will be displayed.
Lock allows you to lockout all users from running a configuration file
New - use the wizard to create a new configuration file
Update the configuration file
Validate checks all the settings to ensure there aren't any problems and displays a message.
Run executes the configuration file. This is the same as clicking on a shortcut on a desktop. There is no message or screen displayed.
Email - create a user setup email for first time users to the applcation.
Enterprise - update the Enterprise Edition options
Email Users - Email to All Active Users
View log - see the log of all Errors, Files Copied and Actions. If the icon is red then there are errors which haven't yet been acknowledged by you.
Remarks
Should the user click on the exe file directly all they will see is the Run and Exit icons along with a list of the configuration files available to execute. Their userid and workstation name are not present in the master screen.