Update Configuration File - User Setup Email - 2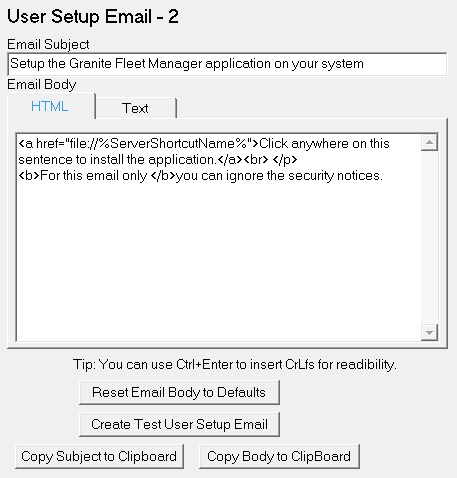 Email Subject
The email subject defaults to have the name of the configuration file in the subject. Feel free to change it as required.
Email Body - HTML
The variable %ServerShortcutName% must be retained in the HTML and text email bodies so the server shortcut path and file name including the hidden .lnk file extension can be placed in the email.
Note: If you are testing the Clipboard - HTML format option it won't paste into Notepad. You must use Microsoft Word or other software that understands HTML formatted data in the clipboard.
Chances are that the Clipboard - Text format option won't be formatted properly for the recipient. For example you will likely need to use whatever means are necessary in your email program to flag the hyperlink text as a hyperlink. Otherwise the user won't be able to click on it when they receive the email.
Reset Email Body to Defaults
If you want to retain some formatting of the HTML you already have entered I'd suggest opening Notepad and copying in the current text.
Create User Setup Email
This command button will create but not send the email so you can see what it will look like.
Copy Subject to Clipboard
Copy Body to Clipboard
Either the HTML or the text will be copied to the clipboard depending on which tab is currently visible.