Lockout configuration file
From this screen you can lockout all users from running a configuration file. This can be useful if you need to do a compact and repair of the backend database or work with tables, fields, indexes or relationships.
The list of users, along with names, contact information and last login date and time, currently accessing the back end database is only available if your organization has purchased an Enterprise Edition license and have enabled logging of all errors, actions and files copied. For more information on the list of users currently in the database see the View Users in Back End Database(s) page.
You can also create an email to all the users in the backend database when the app was locked and all users who attempted to access the app while it was locked by clicking on the Create Email to Users in BE command button. This is an Enterprise Edition feature.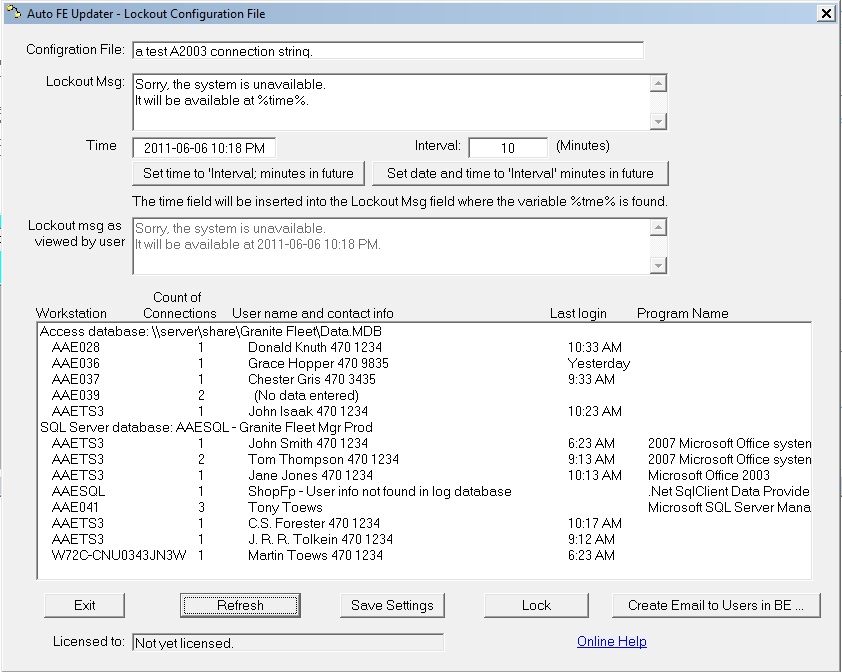 You can choose to click the button to Set time to 10 minutes in the future or you can enter whatever data you would like to see there.
Tips
Consider using Idle Detect Timeout code to force the users out of the database in a reasonable amount of time such as a half hour or hour.
Remarks
If you are seeing the "the above connection string is not handled by this utility" in error or you'd like me to handle that linked file open the View users in backend database files form and click on the Copy Connect Strings to Clipboard command button. Then email me the contents of your clipboard.