Update Configuration File - Uncompress Files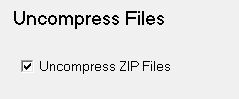 If there are any Zip files downloaded they will be unzipped at that time. Sub folders in the zip file are supported.

Only ZIP files are supported. If you would like me to support other files please email me. Preferably with links to Visual Basic 6 source code.
Warning: Any files in the target folder that are in the zip file or subfolders that the user updates will be replaced without warning by this utility.
Frequently Asked Questions
Q: Why didn't the uncompress files unzip the contents of the zip file when I was testing?
A: You probably did what I did. I run the utility and copied down files including a test zip file into my target folder but it never unzipped any files. I realized I'd forgotten to set this uncompress zip file flag so I set the flag and then reran the utility. But the utility still didn't uncompress the zip file. The problem is that the zip file is already in the target folder. As the Auto FE Updater doesn't need to copy the file down again the utility also doesn't unzip the file. Delete the zip file from your target folder by clicking on the Validate icon on the toolbar and open the target folder. Then run the utility and it should unzip the files.
Q: I'm getting error messages when the user downloads a Zip file such as CRC calculation failed, CRC error, Error in decompressed size or Error writing file but when I ask the user to find the Zip file it's not there.
A: Immediately after displaying the above error messages the utility deletes the downloaded zip file. Thus the next time the user runs the utility it will download the file again and hopefully it won't have a CRC error. If you do want to examine the file have the user stop when they get the message. You or they can then find the file in the target folder and examine it
You can use Winzip's file Test function to double check the zip file. In my version of Winzip it's found under the Actions menu item once you open the zip file.
Please let me know if you do encounter any of the CRC errors on a regular basis.