Update Configuration File - Start Method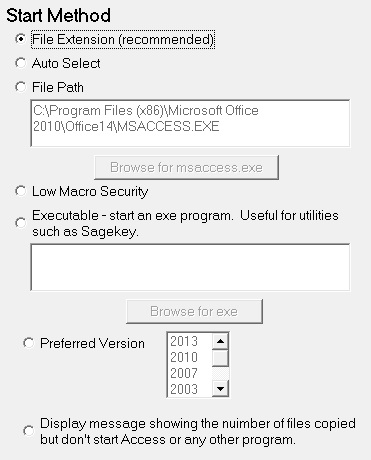 This option choose the method which starts Microsoft Access and the MDB file.
File Extension (recommended) - uses the version of Access which is currently associated with Access extensions such as MDB, MDE, ADP, ADE, ACCDB, ACCDE or ACCDR. Whatever version of Access was installed or executed last will be used. .
Auto Select - Deprecated. This option made a lot of sense when this utility was first created in 2000. Access 2000 did not support opening Access 97 applications so this was a reasonable scenario at that time. But now Access will easily run FEs created by olders versions of Access.

This option determines the version of Access of the FE file and then locates that version of Access using the registry. Or if the MDB is in Access 2000 or newer it will look for a compatible version of Access. This option does not work for ADP/ADEs. This option uses the latest version of Access installed on your system. So if you're a developer with Access 2003 and Access 2007 installed on your system it will always choose Access 2007 to start your app.
File Path - allows you to specify the exact path for msaccess.exe but requires the exact path to be entered. Note that this is troublesome if the users could have the Microsoft Access exe program installed in different folders. This will be especially troublesome if there are multiple versions of Access installed.
Low Macro Security - allows you to start Access setting the macro security to low for just this Access file. There are a number of serious limitations. Also Note that Microsoft does not recommend you do this because of bypassing security options. For more details see the Low Macro Security and the Auto FE Updater page.
Executable - allows you to start an exe file such as the Sagekey runtime program. An Executable entry must also be present.
Preferred Version - Access will locate the version of Access you have specified and start executing it against your Access database file. If the preferred version is not available the Auto FE Updater will look for the next newest version until it finds one and use that version. For example if you had Access 2000 and Access 2007 installed on your system and your preferred version was 2002 then Access 2007 would be started.
Display File Count Message - This option does not start an Access FE database file or another file but just displays a message indicating how many files were copied to the target PC.
Note: You can use a command line or workgroup security file entry with all options except for Low Macro Security or Display File Count Message