Auto FE Updater
Update Configuration File - Configuration File Comments

Clicking on the appropriate line on the left hand side list box will display the appropriate form. I decided to use this technique as a traditional tab control would've been very ugly for all these options. And there are a number more screens that will be added.

The Online help brings you to this set of web pages.

The Configuration File Comments are for the developer only. The user will never see these comments. You can also view these in the main Select Configuration File screen by hovering over the file name.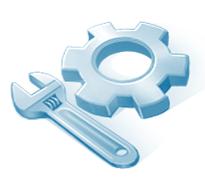 Granite Fleet Manager - the best designed fleet maintenance tracking and management system available