Update Configuration File - Command Line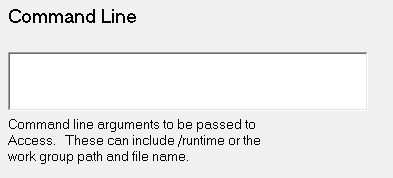 This entry contains any command line options you wish to pass to the application. This could be such things as /runtime or work group file /workgrp for security. If you're not sure what this means then you likely don't need anything here.
If a parameter has spaces, such as a file path and name, the parameter, but not the switch must be enclosed in double quotes. For example "/wrkgrp "\\servername\share name:\Access FEs\AutoFEUpdater\Tracking System\\FOPCDSec.MDW" ".where the outside quotes are ignored.
For a detailed set of command line switches see the bottom section of Command-line switches for Access. While this is for Access 2007 the switches haven't changed significantly since at least Access 97.