Update Configuration File - Trusted Location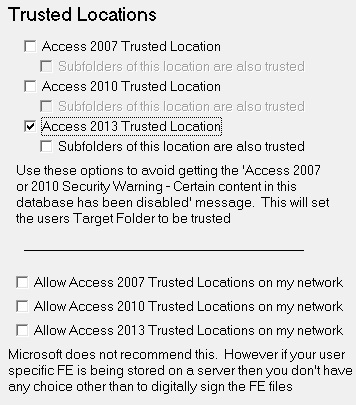 Access 2007/2010/2013 Trusted Location
To avoid getting the 'Access 2007 Security Warning - Certain content in this database has been disabled' message below and set the users target folder to be trusted for Access 2007 then insert the above line.
Access 2010 and 2013 handle trusted locations the same as when they were introduced in Access 2007.
Allow access 2007/2010/2013 Trusted Locations on my Network
These are required if you are placing the Access front end database files on a file server and you want to avoid the these messages

All Access 2007 trusted locations are stored in the registry under
HKCU\Software\Microsoft\Office\12.0\Access\Security\Trusted Locations\
The Auto FE Updater utility creates registry keys based on the name of the INI file and creates the recommended sub keys with the update date and description of the key for full traceability in the future.
Note that it is a common assumption that you must use Location0, Location1, etc as a sub key which is what Access 2007 creates when you manually add entries. This is an assumption. Which I made as well so you're not the only one.