Enterprise Edition - Log Errors, Files Copied and Actions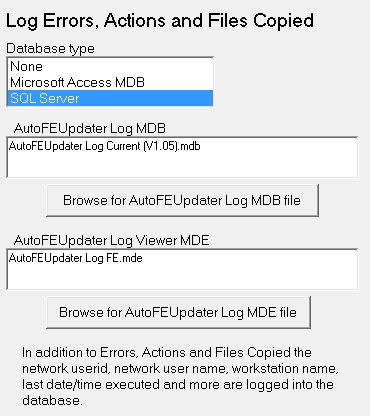 The Log Errors, Actions and Files Copied function will also log the users and workstations. However these functions will only work if your organization has purchased an Enterprise Edition license.
These fields will already be filled in if you have placed the 'AutoFEUpdater Log.mdb' and 'AutoFEUpdater Log Viewer.mde" file in the same folder as the StartMDB.exe.
If you have made the Auto FE Updater folder read only for the users you will need to place the 'AutoFEUpdater Log.mdb' file in a folder to which the users have read/write/delete privileges.
The Auto FE Updater is designed to use one log file for many configuration files.
The log can be viewed using the 'AutoFEUpdater Log Viewer.mdb' file or by clicking on the View Log button on the main screen of the Auto FE Updater utility.
Below is a sample screen shot showing several warnings and errors.