Enterprise Edition - Workstation EXE/DLL Versions
This data is recorded so you the developer can verify that everyone is running a current version, including Service Packs and hot fixes, of the key MS Access program EXEs and critical DLLs such as ACE, Jet, DAO or ADO. I would suggest you review this data on a monthly basis.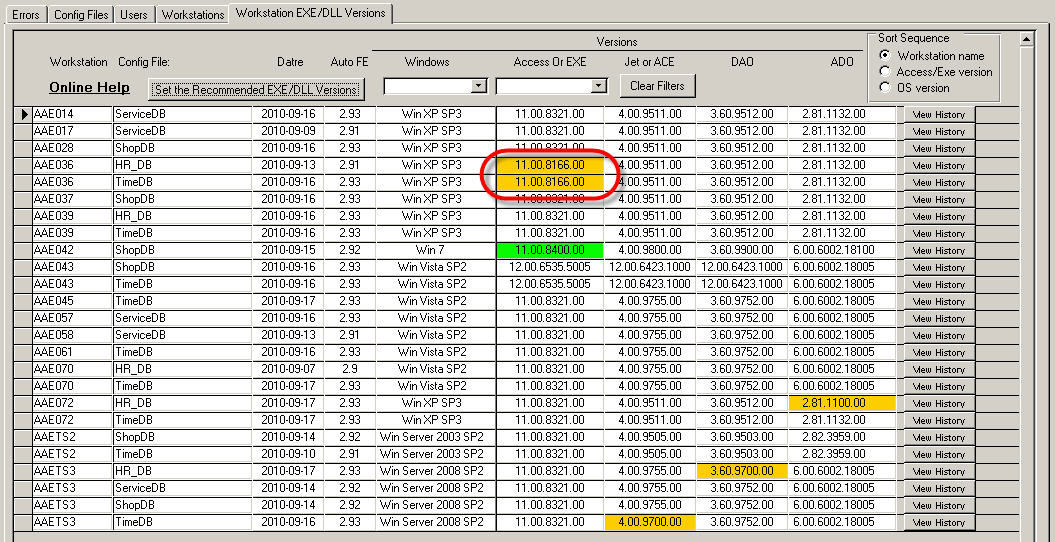 (Click on image to open a new larger window)
Notice in the above screen shot the circled Access EXE versions. This workstation has an older service pack of Access installed on it. This is a screen shot from my customer who is kind enough to let me use them as an alpha test site. They are also a very good, conscientious group of people who know what they are doing. And yet, somehow, one workstation is running a slightly older version of Access..
In this sample screen shot the green version number is a workstation which is testing a version of Access which has a specific hotfix installed on it for testing purposes. See the Workstation EXE/DLL Recommended Versions screen to see how to set the recommended version. The orange version numbers are older versions which should be corrected as soon as reasonably possible.
The IT department is in control of all the exe and dll versions with the exception of the Auto FE Updater utility. If you see a problem you will have to deal with them on these issues. I haven't included any reports. You may want to create another Access database linked to the Log database and create your own reports for discussions with the IT department.
In Access 2007, Access 2010 as well as Access 97 and earlier the Access product group has control of the ACE, Jet and DAO dlls. Thus each versions of Access, be it 2007, 2010 or 97 and earlier, should have the ACE, Jet and DAO dlls consistent by the version of Accems.
Access 2000, XP aka 2002 and 2003 use the Jet 4.00 and DAO 3.6 dlls which are controlled by the Windows operating system product group. ADO has been part of the operating system since Windows 2000. Thus these DLLs should be consistent by operating system version.
There can legitimately be differences in the various EXE or DLL versions or the user hasn't run an Access or other application controlled by the Auto FE Updater since these were updated. So if you have a user on holidays then these might not get updated for several weeks. I'd suggest marking that users workstation as inactive. Once they're back and have executed an application then the inactive flag will be reset and the version history data updated.
Also if the IT department is in the middle of updating operating system or Office/Access Service Packs then you can see this differences as well.
Verifying Windows Versions

In the Windows combo box you shouldn't be seeing a mix of SPs or Service Packs with the same operating system in your environment. For example Win Vista SP1 and Win Vista SP2. The reality is that different Windows Service Packs aren't much of a concern to Access developers unless the various Jet, DAO and ADO DLLs mentioned are different.
Verifying Access or EXE Versions

In the Access or EXE combo box check that all the same versions of Access have the same version number. In this example you can see 8166 and 8321 for Access 11 aka Access 2003. This isn't a good thing.
Verifying Jet, ACE and DAO DLL Versions
For Access versions 2007, 2010 and 97 and below (14, 12, 8 or below) filter by ' not Access 9, 10, 11' in the Access or EXE combo box. As the version of Jet, ACE and DAO comes with those versions of Access all of Jet or Ace and DAO for that version of Access should be identical.
For Access versions 2000, XP aka 2002 and 2003 (9, 10 and 11) filter by 'Access 9, 10, 11' For each of these versions of Acess the various ACE, Jet and DAO versions should be identical.
Verifying ADO Versions
Filter by each of the selections in the Windows Versions combo box. The ADO version is by operating system the version numbers should be identical by operating system.
Version History Sort Sequence

Choose the Access/Exe sequence. Now look for differences within the version. And do the same for OS version.