Enterprise Edition - Operating System Application Event Log
This will log all errors and warnings to the operating system event log. You, or the IT administrators, will need to use tools outside the scope of this utility to monitor the event logs on the users PCs and Terminal/Citrix servers for these errors and warnings.
This is in addition to the Log Errors, Actions and Files Copied capability.
Developers or IT administrators will want to install the Auto FE Updater Event Log Viewer.dll file on the systems of those who want to review the Auto FE Updater entries in the OS event log. You can also use the supplied MSI file. This DLLs only purpose is to avoid the following message on Windows XP or similar in other operating systems when you view the event log. The text still appears in the body of the event property as in the below image to the right.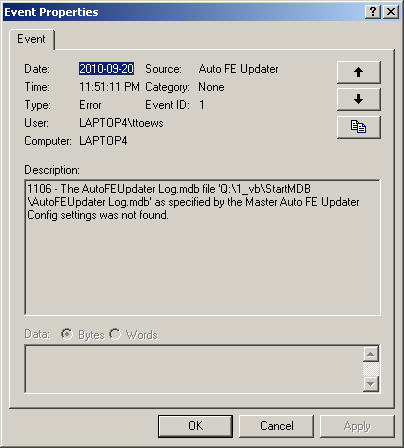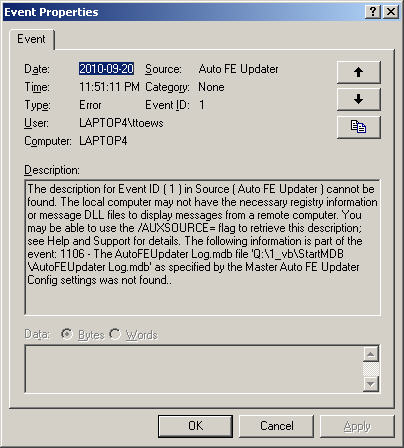 "The description for Event ID ( 1 ) in Source ( Auto FE Updater ) cannot be found. The local computer may not have the necessary registry information or message DLL files to display messages from a remote computer. You may be able to use the /AUXSOURCE= flag to retrieve this description; see Help and Support for details. The following information is part of the event: "
Note that the only reason the MSI file is so large is it contains the graphics for the setup routine which are in uncompressed BMP format. Also you must have admin privileges to install MSI files.