Wizard - Shortcuts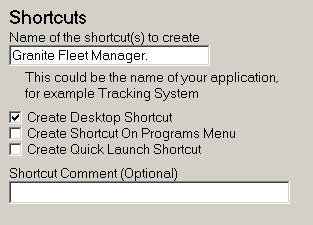 Name of the shortcut(s) to create
Name of the shortcut to be created on the Desktop or the Common Desktop. This could be the name of your application such as Granite Fleet Manager. It is defaulted to the same name as you choose for your configuration file.
Create Shortcut On Desktop
Create Shortcut On Programs
Create shortcut on users Start >> All Programs menu
Create Quick Launch Shortcut Name (Optional)
Windows 7 no longer has a Quick Launch toolbar so Windows 7 ignores this option.
Shortcut Comment
Text to be placed in the shortcut comment field which the user can view by hovering over the shortcut.
There are many more additional options available in the settings pages dealing with this topic - Shortcuts, Shortcuts 2 and Shortcut Icon.