Wizard - Finished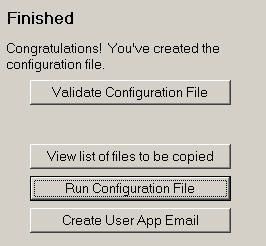 Congratulations! You've created the configuration file with the basic settings. It can be found in the same folder as the Auto FE Updater utility.
Validate Configuration File
This double checks that all the settings are valid especially if some depend on other settings. While seldom required for the wizard you should execute this every time you update a configuration file.
View list of files to be copied
You can see exactly which files the Auto FE Updater utility will be copying down to the users target folder.
Run Configuration File
This will execute the Auto FE Updater using the configuration file. This will create shortcuts as specified and start Access running with your Access FE database file on your system.
Create User App Email
If a compatible email client is found, such as Outlook, this option will create an email suitable for sending to your users with a hyperlink to a shortcut embedded within it. More details are available at the detailed Create User App Email page. This option is by far the easiest method of distributing Access applications to users who are new to your application. All they need to do is click on the hyperlink and they're running your app.