Wizard - Server Folder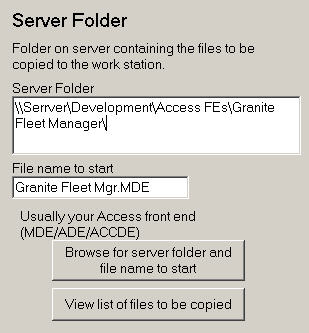 Server Folder
Directory on server where the files are copied from. There should be no other files in this directory except those you want copied to the PC. Such as your front end database file and any MDE add-ins or DLLs. Just the path is entered here.
File Name To Start
This is the front end (FE) database file the users will execute. It can be one of MDB, MDE, ADP, ADE, ACCDB or ACCDB. It must reside in the server folder in which the front end resides and thus will be copied down to the main app folder. If the Executable option is chosen in the Start Method setting this entry can't be present.
You can also use environment variables in the Target Folder, Server and shortcut lines. These must have %s around them. These are the same variables you can see when you run the SET command in the command prompt window. Examples would be %APPDATA%, %USERPROFILE%, %HOMEDRIVE% or %HOMEPATH%
Browse for server folder and file name to start
This command button will allow you to locate the folder and file name on the server you want to distribute to the users. Once you click on the Save button the Auto FE Updater will split the folder and file name into the individual entries for the Server Folder and File Name to Start.
View list of files to be copied
This command button opens a screen showing the contents of the server folder so you can see all the folders to be copied down to the target folder.