Update Master Auto FE Updater Settings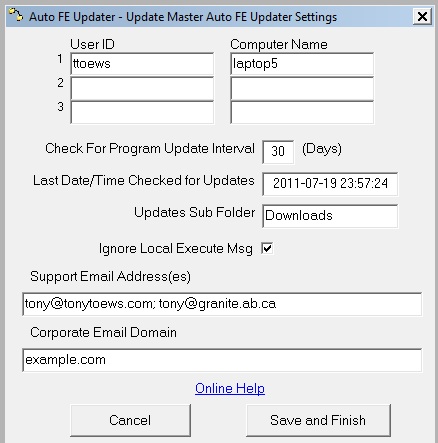 User ID and Computer Name
The screen allows you, the developer, to control who has access to the Auto FE Updater interactive screens. Other developers work station names and user ids should also be added to the User ID and Computer Name (Workstation ID) settings as required. Both UserID and
Computer Name entries are required in case of Terminal Server or Citrix usage.

If someone whose user id and computer name is not one of these three entries executes the utility directly then they will only see the Run and Exit items on the toolbar on the main screen.

When you first run the StartMDB.exe utility it will automatically create this file in the same folder as the StartMDB.exe along with filling in the User ID and Computer Name entries.

Last License Reminder
This was the last date the utility nagged at you to convince your manager to purchase a license for this utility.

Check For Program Update Interval
The nag interval every time you the developer run this utility when this utility will display the Check For Updates screen.

Last Date Time Program Updates Checked
You can do the check for updates from the main menu by clicking on Help >> Check for Updates

Update Sub Folder
All updates and hot fixes will be downloaded to this subfolder of the Auto FE Updater utility folder.

Ignore Local Execute Msg
This is for the reminder when you are running this program on a local hard drive. At this time this is not recommended. However if you are logged onto the file server on which the Auto FE Updater is running from then you will get a recommendation command button on the main screen.

Support Email Address(es)
These are used to fill in the defaults when the user receives a message and clicks on the Create Email With Message button. Multiple email addresses must be entered with a semicolon separator.

Corporate Email Domain
This is used for sending emails to users currently logged into the back end database file. This is only the portion to the right of the @ sign. For example if your email address is tony@example.com then only "example.com" is required.